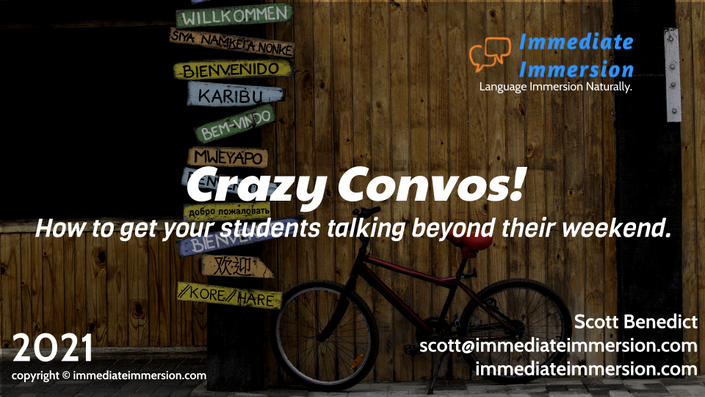 Crazy Convos
We are all familiar with Weekend Talk and it's a go-to conversation starter with all levels of CI. But weekend talk can get boring very quickly for both students and the teacher. Students run out of things to say or what they want to say, they lack the language to express. Teachers get tired of hearing the same old things over and over again. There's no stretch in language skills talking about the same old things over and over again.
With Crazy Convos, the topics are different every time. They can be informative, funny, crazy, absurd, and always give you a glimpse into each individual student. No one knows what to expect and that's the fun of it.
Since I've implemented this every Monday, my students and I have had a blast talking in the target language.
Your Instructor

Hi, I'm Scott!
Teacher | Presenter | Consultant | Author
I'm going to help you become an AWESOME language teacher by singing, talking to, and reading with your students.
Since 2001, I have taught over 3000 students using comprehensible input getting them to speak and write like never before.
Since 2008, I have presented hundreds of workshops, presentations, and webinars on TPRS, comprehensible-input techniques, grading, and assessment at national conferences such as NTPRS and iFLT, for school districts like Minneapolis Public Schools, Norfolk Public Schools, Clark County School District, and Matawan-Aberdeen Regional School District, and individuals all over the world.
I'm also the author of the Immediate Immersion Spanish curricula, a TPRS-in-a-Box solution that includes everything you need to teach with comprehensible input starting TOMORROW!
If you're ready to get serious and truly create proficient second-language speakers, enroll in my Immediate Immersion course today!
LET'S GET STARTED!
Course Curriculum
Welcome!
Available in days
days after you enroll
Frequently Asked Questions
How long do I have access to the course?
You have 30 days from the LIVE event to watch, reveiw, or rewatch the content.
Cancelations/Refunds
LIVE Workshop and Webinar Cancellation/Refund Policy - 30 days or more prior to event: 100% refundable - 29 – 21 days prior to event: 75% refundable - 20 – 14 days prior to event: 50% refundable - 13 – 7 days prior to event: 25% refundable - less than 7 days prior to event: 0% refundable
How do I access the LIVE webinar?
Approximately one week before the webinar, you will receive an invitation with a Zoom link. Please do not share this link as it is only available to registered participants.